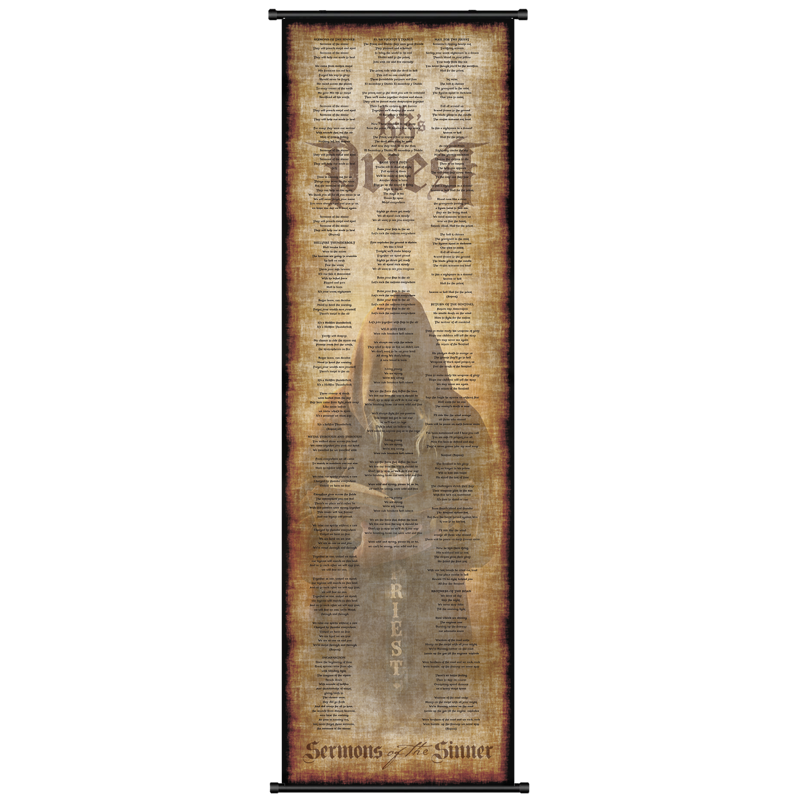 KK's Priest New Limited Collector's Edition Scroll
This limited collector's piece, chronicles the lyrical content of the KK's Priest's masterwork - SERMONS OF THE SINNER. The scroll features lyrics of all 10 tracks on the forthcoming album; spanning 14X50"on parchment paper rolled on metal pole ends. Also included is a certificate of authenticity signed by KK Downing.
KK's Priest - Sermons of the Sinner - 10 new songs available on CD disc, single disc vinyl with bonus CD album, digital download and via streaming - is a musical statement that KK Downing's heavy metal ride is far from over after his extended hiatus. "The whole concept is the fact that I continue proudly to be who I am and what I am and do what I do," declares KK. "It's been nearly 10 years. I'm back making music." KK's Priest includes singer Tim "Ripper" Owens, guitarist A.J. Mills, bassist Tony Newton, drummer Sean Elg and guitarist KK Downing.
They have unleashed an album with a modern sound that hearkens back to what fans have always loved about KK Downing and his music and which still sounds fresh including the high-speed album opener "Hellfire Thunderbolt", "Raise Your Fists" and "Wild And Free" which revel in the passion and excess that metal fans embrace. The guitar interplay is intense and inspiring, and the band is firing on all cylinders.
TRACKLISTING:
1. INCARNATION
2. HELLFIRE THUNDERBOLT
3. SERMONS OF THE SINNER
4. SACERDOTE Y DIABLO
5. RAISE YOUR FISTS
6. BROTHERS OF THE ROAD
7. METAL THROUGH AND THROUGH
8. WILD AND FREE
9. HAIL FOR THE PRIEST
10. RETURN OF THE SENTINEL